Tying Rod for the 60 Series looms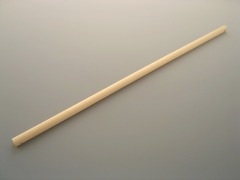 Tying Rod for the 60 Series looms
It's always nice to have extra tying rods around the Studio. There are so many ways to use them:
create your own warp extension tube (if you've saved your empty tubes from woven warps)

for Sazanami-ori (ripple weaving)

with Kenzo's New Way of Warping
Smooth finish.
Drilled holes at each end.
Length is 21.25 inches.
The Tying Rod is for the 60 Series looms: CH, SX, WX. Three options to choose from:
Tying Rod Only

Tying Rod with Cords (not shown)

Cords Only (not shown)
U.S. shipping only.