SAORI Warping Frame with Legs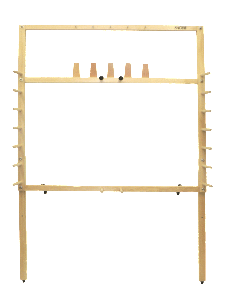 SAORI Warping Frame with Legs
NEW! This listing is for the SAORI Warping Frame with Legs (photos 1-3).

Wind your warp anywhere with this new, portable Warping Frame with Legs! Set it against any wall and start warping! Special features include:
Two legs that have rubber attachments to keep the frame from slipping

Two different height adjustments for maximum comfort

Rubber caps on the two center pegs to keep the warp from falling off

5 built-in cone stands

Center hooks so both right-handed and left-handed people can easily control the thread
Maximum warp length: 13.5 meters, or 14.7 yards.
Tools required:
adjustable wrench

phillips screwdriver
An optional Warping Frame Stand (photo 4) is sold separately. The Warping Frame Stand features include:
folding easel-style stand to make the warping frame free-standing. Warp away from the wall!

has a metal brace at the bottom, allowing for wheelchair accessibility

has 5 height adjustments for comfort
Please contact me for availability and cost for the optional Warping Frame Stand.
U.S. shipping only.
sold out